'Think before you speak' is something we hear from a young age but it is advice we often ignore.
It is Children's Mental Health Week in Britain this week and I really wanted to write a blog post about it as it is an area I am very passionate about. Research in the UK has suggested that 'Three in four mental illnesses start in childhood, with 75% of mental illnesses starting before a child reaches their 18th Birthday'. Furthermore, '75% of young people with a mental health problem are not receiving treatment'. (The Guardian 2017) To me this is unacceptable and something needs to be done. There are many topics surrounding this issue that need to be spoken about but I thought I would share one of the biggest things I have come to realise affect our emotional stability as we grow.
I am not an expert in this subject by any means, but I have been fortunate to learn about it through briefly studying Child Psychology and Psychotherapy and I think the more people that are aware of it the better. The area I want to discuss is the language that we use around children.
More and more we are learning that ignoring/repressing our feelings are harming us in very real ways. We often ask ourselves why we do it, why we don't feel comfortable expressing and talking about our feelings, why we struggle to control our emotions in a healthy way. I think one of the answers to this is that we are told to do so from the moment we are born.
When a newborn child cries, it's parent's first reaction is to try and soothe it. One of the most common ways people do this is holding the child and saying something along the lines of 'shhhh it's ok, don't cry'.
When a toddler throws a tantrum over not getting the toy it wants and hits the other child playing with it, again a parent want's to calm the child and will often tell them to 'calm down' or they will become angry with the child and say something along the lines of 'don't you dare', 'don't hit your friend' or 'don't throw a tantrum'.
When an older child comes home crying from school because someone calls them a name, again, a parent will try to soothe them by saying something like 'don't cry', 'you don't need to be upset' or 'it doesn't matter'.
When a teenager is screaming at their parent because they wont let them go to a party, the frustrated parent will often scream back and/or say things like 'don't raise your voice at me', 'what are you upset for, it's just a party' or just ignore them and tell them to 'go to your room'.
It may not be immediately obvious but there is a pattern here. Though we don't mean to, we are dismissing our children's feelings and emotions, or worse, telling them not to feel that emotion. This blog isn't meant to make anyone feel like a bad parent, or to tell you to never discipline your kids, it is meant to make you re-think the language you use around your children when they are expressing a feeling.
I took part in group therapy for a while last year and one of the most common themes that came up was that some felt it was unacceptable to show certain feelings around their parents growing up. One participant suffered with anger issues and felt that during his childhood he was always told that expressions of anger such as shouting were "unacceptable". Another participant felt that crying was a sign of weakness to his parents or even a "woman's thing to do". Another person felt they always had to be perfect because they didn't want to be like their sibling who had tantrums and got into trouble for it a lot.
Though parent's mean well when soothing or disciplining their child, I think a lot of them don't realise how much of an effect what they say has on their children's mental health. Again, I am not here to tell you how to raise your child or to criticize your parenting skills. I simply want to show you how small changes in what you say could have a big difference in your child's mental development.
The key thing I feel is to never say 'Don't feel (emotion)'. By doing this you are unconsciously sending the message to your child not to feel, or that feeling certain emotions is wrong. Instead it is very important that you let them know that the feeling they are having is valid and normal. Take the earlier example of the toddler throwing a tantrum. Instead of saying 'don't hit your friend' or 'don't throw a tantrum', try saying something along the lines of 'I understand that you are angry because you want the toy and that is ok but it is not ok to hurt another person. Why don't you apologise to your friend and we can talk about why you are angry together.'
I'm not saying that this exact conversation will stop the tantrum or make the toddler forget about the toy. The important thing is that you are acknowledging the feeling, letting them know that having that feeling is ok, and trying to get them to express that feeling verbally with you. You are still making the toddler acknowledge the bad behaviour (the hitting) but not dismissing the feeling that caused the bad behaviour (the anger).
The same thing can be done with the upset child who was called a name. Instead of saying 'don't cry', 'you don't need to be upset' or 'it doesn't matter', you could say something like 'It is ok to cry when you feel upset, I'm sure what happened hurt your feelings. Why don't we talk about it and see if we can come up with a solution together'.
In this example, you are again acknowledging the child's emotion and letting them know that crying is a valid response to feeling upset. You are also not dismissing the importance of the event to the child by saying that the event doesn't matter. Instead, you are teaching the child to accept what has happened, talk about it and see if there is something that can be done.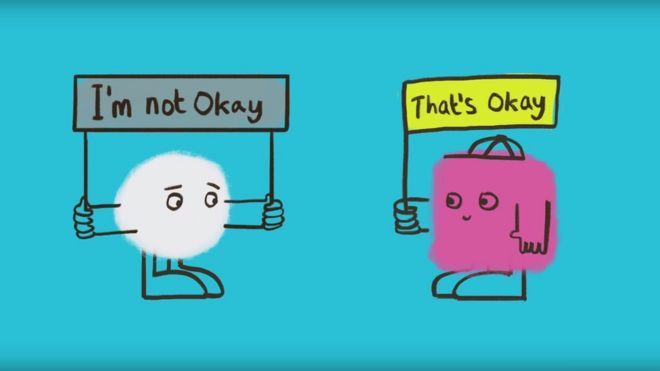 Little adjustments like this in any situation where a child is trying to express an emotion can make a huge difference on how they handle their emotions later in life. Remember, it is important that you as the parent practice what you preach. By seeing a parent deal with emotions in a healthy way, the child can learn by example. If I child sees their Mother or Father trying to hide emotions, it is quite possible that they will copy this behaviour. Children, especially very young children, idolize their parents and will try to copy what they do. It is important to recognize your own reactions to emotions and ask yourself if you are dealing with them in a healthy and constructive way, only then can we successfully teach our children how to handle their feelings properly.
I hope this blog post gave you some ideas to try and help the emotional education of the children in your life. Everyone's mental health is important so it is imperative that we all try and support each other when we are struggling. Being a parent is the toughest job in the world so remember to check in with yourself and your own mental and physical health. The best way to look after the child in your life is to make sure you are at your best so take of yourself and remember, there is no such thing as the perfect parent.
I have left some links for you to check out if you want more information on children's mental health. I hope you find them useful.
Enjoy your weekend everyone!
-Vifa
http://www.mentalhealthireland.ie/children/
https://www.mentalhealth.org.uk/statistics/mental-health-statistics-children-and-young-people
Sources:
http://www.bbc.com/news/uk-scotland-38483120
https://www.theguardian.com/mental-health-research-matters/2017/jan/20/12-statistics-to-get-you-thinking-about-mental-health-in-young-people