Happy Tuesday everyone! The sun has started shining once more and the temperatures are slowly beginning to rise. I am cautiously optimistic that Spring might finally be showing up!
Today I'm going to do a bit of reflection about something I have learned about myself recently. I would be interested in people's thoughts about it if you would like to share them. So here it goes….
I was at therapy on Thursday and a topic that comes up a lot whether you are studying some form of therapy, or if you are in therapy yourself, is the idea of 'needs'. When you think of what you need your mind may jump to the things our body needs to live such as food and water, or maybe you will think of things you want such as love or family or even material things like a house and money. Sometimes it is hard to decipher between a need or a want or to realise that what we want can actually be a need.
I have come learn that I myself don't like the term 'need' when it comes to my own needs. I care a lot about the needs of others and like to give them what they need, but turn that around and I hate the idea of 'needing' something from someone else. I don't like relying on other people because I have it ingrained into my brain that they will just let me down. It is easy to come to this assumption when you have been hurt or disappointed by others in the past, but it dangerous when this assumption becomes fact to your brain. Asking for help, asking for the things that you need from someone else can become terrifying or just something you think is pointless. It can make you isolated and fearful of forming a relationship with others, not wanting them to get close enough to let you down.
Not only do I not like to 'need' things from others, but I also often don't know what my needs are. My therapist often asks me 'What do you need right now?'. Nine times out of ten I have no idea. My needs don't enter my head. I could tell you what my brother needs or my mother or my stepdad, or my friends, but I have no idea what I need, because I don't see my needs as important. You may think that makes me a selfless person which it doesn't. I have selfish wants all the time, but not needs.
Not acknowledging my needs is a behavior I have picked up over time. I don't blame anyone else for this behavior but I can see where it started and how  it continued to the point that I no longer see what I need. I need food, water, money to pay rent and bills, basic things to survive, I can acknowledge those things. Anything else like emotional needs are lost to me for now.
To come to this realisation was quite painful in a way. To acknowledge that I don't think enough of myself to know what my needs are seems very sad to me. I suppose it gave me a sense of hopelessness. If I do not know what I need to be happy then how can I ever achieve happiness? That is when I found my first and second need. I need to accept I have needs and that they are important. I need to find out what those needs are.
I think it is a good thing to sit down every now and then and ask ourselves what we need. Even if it isn't obvious straight away, it is a good habit to think about it until we come up with an answer. To fulfill our needs is one of the basic steps we take to achieve happiness, but taking those steps are so important.
I think it will take me a while to dig down into myself and discover what my needs are. I think it will take even longer to accept that I may need other people to help me fulfill some of those needs. For now I am happy that I have taken the first few steps towards figuring it all out.
I guess what I wanted people to take from this week's blog is that it is ok to need. It is a normal part of life and your needs are just as important as everyone else's.  It can be hard to see that sometimes but you are much better off acknowledging your needs so you can do something about them, than to hide them away and let them build up. If we are to help the people we care about with their needs then we must make sure we are taking care of ourselves first.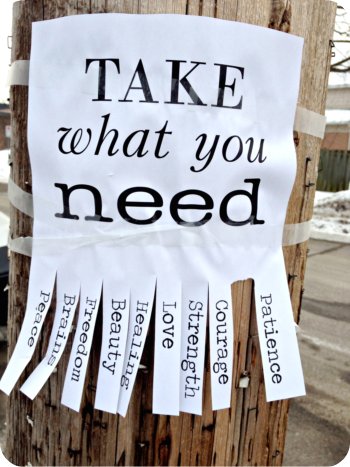 I hope my little self-reflection gave you a little something to think about over the next few days.
Enjoy St. Patrick's Day and take care of yourself!
-Vifa